Prepare Your Business for the Data Decade
Benefits of the Dell EMC Upgrades
It is becoming increasingly important to be able to work from anywhere, and more often than not, the digital burden of these workloads is endured by your server. Empower your business with the latest server technology without replacing your servers every time. 
Enter Dell EMC upgrades – a complete portfolio of verified OEM-grade system upgrades for Dell servers including storage (SSD and Hard Drives), memory processors, CPU, and networking.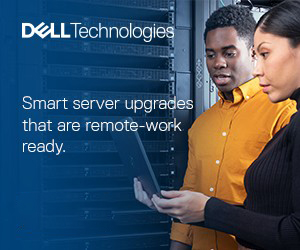 A one-stop performance-boosting solution, Dell EMC Upgrades sustains new workloads, maximizes existing asset lifecycles, and minimizes IT downtime, granting your business the power to handle the most unpredictable of workloads and applications with ease.
Why Contact NEWCOM?
NEWCOM is a valued, Gold Partner of Dell Technologies and is able to answer questions and provide solutions tailored to your Dell technology needs. Based in the metropolitan Boston area with operations nationwide. Our expert project team of engineers offers turnkey solutions for commercial and public sector markets ranging from system analysis, design, installation, implementation, and system management, and raises the bar for the highest standards for customer support. Partnering with Dell Technologies allows NEWCOM to provide the critical link between IT solutions and business optimization providing customized, best-in-class solutions that are designed to maximize our client's technology investment in the face of the on-going technological change. 
Dell EMC Networking S5224F-On
Dell EMC Networking S5224F-On
Modernize computing and HCI connectivity with this 25GbE ToR switch that automates up to 99% of the network configuration for PowerEdge with ESXi and VxRail hyper-converged environments using SmartFabric Services.
PowerEdge R540 Server
Adapt to a variety of application demands with a 2-socket, 2U rack server that offers an ideal balance of resources and affordability.
Dell EMC IDPA DP4400 - Data Protection
A customer-installable/upgradeable 2U appliance that can grow-in-place (from 8-96TB) with no additional hardware, Plus, up to 2x shorter backups and average dedup ratio of 55.1.
VxRail - Hyperconverged Infrastructure
VxRail - Hyperconverged Infrastructure
Modernize your software-defined data center with the only jointly engineered, preconfigured and pre-tested VMware hyperconverged infrastructure appliance for a seamless experience and simplified IT service delivery.
New Dell EMC PowerStore
Advanced midrange storage system offers leading scalability, efficiency, and automation with best-in-class technology including NVMe and SCM. Combines both unified shared storage and converged infrastructure for unparalleled flexibility in workload deployment. Featuring Intel® Xeon® processors.
More about Dell EMC PowerStore
PowerStore's single architecture for block, file, and VMware vVols leverages the latest technologies to support an enterprise-class variety of traditional and modern workloads – from relational databases, to ERP and EMR apps, cloud native applications, and file-based workloads such as content repositories and home directories.
Designed to leverage next-gen innovations such as end-to-end NVMe3 and dual port Intel® Optane™ solid state drives (SSDs) as Storage Class Memory (SCM), PowerStore delivers up to 7x more IOPs4 and 3x lower latency5 for realworld workloads compared to our previous storage generation, giving you all the headroom you need to ensure long-term value through multiple solution lifecycles.