Disaster Recovery and Business Continuity are not Enough to Address Modern Cyber Threats
Protect Against a Destructive Cyber Attack with Dell Technologies
Attackers are attacking systems, data, and backups. They are encrypting the backup catalog in addition to the systems and data. Disaster recovery is online and not isolated to the degree a cyber vault is, and that makes DR vulnerable to these attacks. An air-gap cyber vault solution ensures that a protected copy of mission critical data is kept in the original form.
"Protecting your business starts with protecting your data."

- Dell Technologies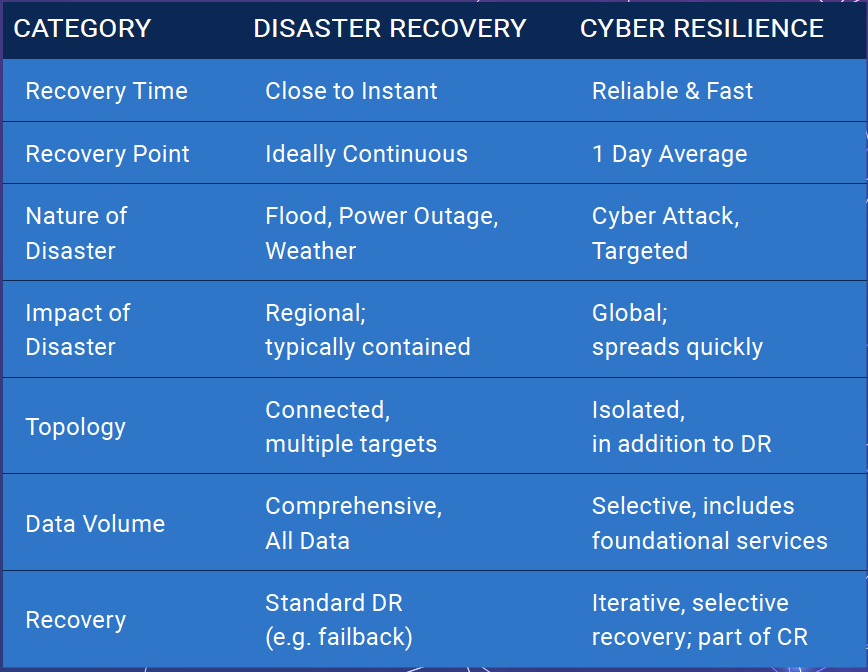 True cyber resilience requires cyber recovery.
The PowerProtect Cyber Recovery solution includes a secure digital vault that is physically and logically isolated from the product and backup network with an operational air gap. Critical data is protected within the vault in an immutable format with retention periods locked. This gives you the best possible chance for recovery if your primary backups have been compromised or your DR location has been breached or infected. Without a Cyber Recovery solution a company spends significant time recovering the last backups without\ knowing if they are good or not. This is a long, labor intense, iterative and costly.
Build Cyber Resiliency
…with Dell EMC PowerProtect Cyber Recovery Solution
Dell EMC PowerProtect Cyber Recovery protects your organization's most critical data – the data that drives your business. With innovative automation and intelligent tools, data can be easily isolated from the attack surface and protected in a dedicated secure vault. Respond, recover, and resume normal business operations with confidence that your data-driven business is protected with PowerProtect Cyber Recovery.
Why Contact NEWCOM?
NEWCOM is a valued, Gold Partner of Dell Technologies and is able to answer questions and provide solutions tailored to your Dell technology needs. Based in the metropolitan Boston area with operations nationwide. Our expert project team of engineers offers turnkey solutions for commercial and public sector markets ranging from system analysis, design, installation, implementation, and system management, and raises the bar for the highest standards for customer support. Partnering with Dell Technologies allows NEWCOM to provide the critical link between IT solutions and business optimization providing customized, best-in-class solutions that are designed to maximize our client's technology investment in the face of the on-going technological change.