Stratus® Continues to Impress Across Diverse Industries 
Demand "always-on" computing platforms.
The IT industry recognition is well deserved as digital transformation initiatives are at the forefront of IT management to-do lists. NEWCOM is a stratus partner which means we have differentiated our offerings by providing our customers with simple autonomous platforms known for helping OT and IT leaders transform their operations.
In the latest press release, Stratus' focuses on edge computing innovation nets industry recognition and market adoption. It goes on to explain the momentum of businesses and the demand for simple, protected, autonomous Edge Computing as a foundation for digitalization and industry 4.0 technologies.
Download Press Release
►

NEWCOM is an Authorized Channel Partner
As an Authorized Channel Partner, NEWCOM provides our customers with continuous availability through the ftServer solution. Our trained engineers can show you how easy it is to set up and maintain. If you want added assurances and coverage or want to include upgrades, ask our team about NEWCOM tiered service levels.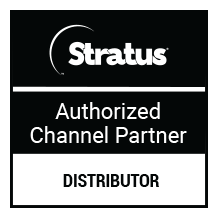 "The current edge market has a number of rigorous requirements, including the need to provide a rugged and durable platform that provides high availability and continuous uptime, the ability to be monitored and controlled by both a local and remote workforce, and the capability to gather and process data without latency," said Craig Resnick, Vice President, ARC Advisory Group. "Stratus' ztC Edge addresses these rigorous requirements while also leveraging artificial intelligence and machine learning to enhance the platform's analytical capabilities. This combination has helped ztC Edge achieve great success since its introduction, with sales increasing at a rate well above overall market growth according to ARC Advisory Group market data, proving that Stratus' edge platforms are helping industrial organizations accelerate their digital transformation journey."

Craig Resnick

Vice President, ARC Advisory Group
Edge Innovation and Award-Winning Outcomes
Stratus released its 2nd Generation ztC™ Edge platform in December, which enables improved flexibility and performance at the edge for customers. Since its introduction, ztC Edge has received significant industry recognition this year. The company earned an Honorable Mention from Control Engineering's 2022 Engineers' Choice Awards for its ftServer®, a fully integrated, continuously available hardware and software solution, and its ztC Edge Computing platform. The company was also named the winner of Rockwell Automation's inaugural PartnerNetwork Ecosystem Award for its inclusion in Horizon Solutions' Business Intelligence in a Box solution. Stratus' customers Rubberlite, Inc., and Synthomer were each named winners of the Manufacturing Leadership Awards 2022 for their digital transformation at the edge, powered by Stratus' Edge Computing solutions.
Turnkey Edge Architectures for Fast Deployment and Scale
Stratus works closely with partners to deliver validated architectures that save engineering time, enable rapid deployment, and simplify OT and IT management. The solutions meet key requirements in industries such as Oil & Gas, Pharma manufacturing, and others.
Fast Payback and ROI with Stratus ztC Edge
In a study by Nucleus Research, the average ROI from a Stratus ztC Edge deployment was 237% over three years, with a short 7.6 month payback period. Additionally, the average annual total cost of ownership (TCO) is $10,812 and customers reported that anywhere between 8-15 hours a month were saved on system maintenance.
ROI Guidebook
Reference: Albano, K. Stratus Press Release. (24 May 2022). Retrieved from ttps://www.stratus.com/about/newsroom/stratus-focus-on-edge-computing-innovation-nets-industry-recognition-and-market-adoption/