Stratus® ftServer
®
Tech Refresh
It's never too early to start planning your upgrade to the next generation ftServer platform.
Now is a good time to start planning your upgrade to the next generation ftServer platform. The Stratus ftServer Technology Refresh program provides an unmatched opportunity to update your existing Stratus systems to the latest architecture, ensuring your mission-critical applications run at peak performance.
Customers worldwide enjoy peace of mind running their critical applications with the unmatched availability of Stratus' simple, protected, autonomous compute platform. Take advantage of this timely opportunity to upgrade your Stratus ftServer platform.
The current ftServer platforms offer the latest performance gains, allowing you to extend Stratus' reliability to other applications, and optimize your computing resources for today's advanced enterprise software at the industrial edge and edge data center.
Download Brochure
►

NEWCOM, an Authorized Channel Partner
As an Authorized Channel Partner, NEWCOM provides our customers with continuous availability through the ftServer solution. Our trained engineers can show you how easy it is to set up and maintain. If you want added assurances and coverage or want to include upgrades, ask our team about NEWCOM tiered service levels.
Contact a NEWCOM Engineer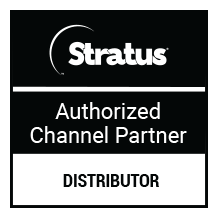 Boost performance while managing costs and reducing risk with Stratus' latest generation of ftServers. They offer 50% or greater performance enhancement over previous systems, the 11th generation Stratus ftServer systems further maximize the computing power and reliability you require for today's industrial edge and edge data center locations.
Increase performance with 50% or greater increase over previous generations.
Enhance flexibility with support for the latest operating system versions
Continue to run your mission-critical applications with the latest compute platforms for reliability, security, and performance
Leverage flexible support and service programs to minimize planned downtime during system transition
Extend the performance and fault tolerance to additional mission-critical applications
Optimize Total Costs of Ownership (TCO) while reducing annual support costs
Support for the latest Operating Systems
ftServer supports VMware vSphere 7.0, Red Hat Enterprise Linux 8.4, and Microsoft Windows® Server 2019, featuring significant security enhancements and the latest support and patching.
NVMe™ memory
Available as a 1.6TB option for ftServer configurations, NVMe offers the fastest storage available and is ideal for high-performance applications such as real-time analytics and machine learning (ML).
Intel® Cascade Lake chipsets
Intel® Cascade Lake chipsets – Intel's 2nd generation Xeon Scalable Processors feature 2.2Ghz speed and 10 to 36 CPU cores for AI and IoT workloads.