Stratus® ftScalable™ Storage
Open fault-tolerant storage platform for high-performance applications
Real-time data is growing. So it's no surprise that improving data storage recovery and managing data growth is a top priority for organizations. Security and compliance regulations, performance bottlenecks, fast, accurate data recovery, scalability, and ensuring data availability are all challenges that need to be addressed to achieve successful data management.
Stratus' ftScalable G4, seamlessly integrated with ftServer is the next generation hybrid storage array that optimizes performance and simplifies data storage and management, while minimizing costs, for an always-on complete availability/storage solution.
It packs maximum performance and availability into an economical, scalable, 2U powerhouse. This high-performance, modular array addresses dedicated, shared, and networked storage requirements allowing you to dynamically configure and grow your system as quickly as needed. Advanced storage capabilities enabled by pooled storage maximize performance and availability of spinning or solid-state based storage. The ftScalable storage array plays an integral role in critical application solutions and serves as a key element in disaster recovery, business continuity, and regulatory compliance strategies.
►

NEWCOM is an Authorized Channel Partner
As an Authorized Channel Partner, NEWCOM can help your organization streamline next-generation hybrid storage and optimize performance unique to your situation. We can facilitate the transformation of simplifying data storage and management while maximizing costs, for an always-on complete availability/storage solution.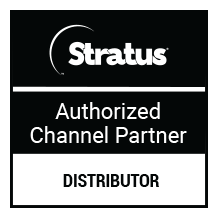 Delivers Storage Performance
Manages "hot" and "cold" data storage in real-time to deliver storage performance that's comparable to all-flash arrays at a fraction of the price
Simplifying Disk Management 
Accelerates business processes 3x by automatically virtualizing storage across device types simplifying disk management in heterogeneous environments
Investment Protection 
Expands up to six shelves with up to 600k IOPS, 144 spindles, and 259 terabytes of storage, for business growth and maximum investment protection
Flexible Availability 
Provides continuous availability in a flexible, high performing array
Protects Data
Protects sensitive data with encrypted SSD disk technology
Contact a NEWCOM Engineer