NEWCOM Joins AT&T's FirstNet Dealer Program
Industry Experts in Public Safety Can Now Market, Promote and Co-Sell FirstNet Services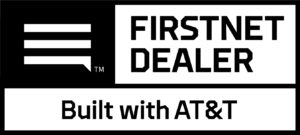 PEMBROKE, Massachusetts, Oct. 5, 2018 – NEWCOM, a provider of public safety mobility hardware and advanced communication solutions, through its relationship with Two Way Direct, is joining AT&T's FirstNet Dealer Program. As part of its relationship with Two Way Direct, NEWCOM can now sell FirstNet services to eligible current and future public safety customers.
In support of AT&T's efforts to deliver FirstNet services to first responders under its contract with the First Responder Network Authority (FirstNet Authority), AT&T has engaged a group of dealers and solution providers with deep knowledge of public safety. This FirstNet Dealer Program will help get FirstNet's game-changing technology into the hands of first responders throughout the U.S.
"We are very pleased to join the Two Way Direct and FirstNet family. We believe in the ability of FirstNet services to change the communications landscape for first responders and its promise of dramatic positive change for all citizens during and after a devastating emergency," stated Jim Carman, Director of Sales for NEWCOM.
FirstNet is the nationwide public safety communications platform dedicated to America's first responders. Being built with AT&T, in public-private partnership with the FirstNet Authority, FirstNet is bringing public safety a much-needed technology upgrade to help them connect to the critical information they need. Every day. And in every emergency.
"Enabling NEWCOM, through its relationship with Two Way Direct, to equip first responders with FirstNet service is a great way to meet public safety where they are," said Stacy Schwartz, vice president, AT&T Public Safety & FirstNet. "The FirstNet Dealer Program makes it easy for public safety agencies to work with the solution providers they know and trust – like NEWCOM – to sign up for FirstNet service."
AT&T closely regulates which indirect sellers are approved to promote, market and co-sell FirstNet. NEWCOM was selected for its focus on advanced turnkey mobile communication solutions for public safety agencies.
To learn more about NEWCOM, go to NEWCOMGlobal.com To learn more about FirstNet, go to FirstNet.com.
---
*AT&T products and services are provided or offered by subsidiaries and affiliates of AT&T Inc. under the AT&T brand and not by AT&T Inc.
About FirstNet, Built with AT&T                                                                                       
First responders, the First Responder Network Authority and AT&T are coming together to build FirstNet, a dedicated communications tool created for and by public safety.
The FirstNet network, devices, applications and technologies are developed with first responders, according to the exclusive standards, needs and usage of law enforcement, fire services and EMS.
By working with you, we are committed to advancing public safety, making your communications simpler, faster and more collaborative in case of disasters and emergencies.
Join FirstNet – and together with first responders we can build mission-critical tools that will keep you safe and help you keep communities safer.
 Connect with a

NEWCOM

Representative Today!