Stratus Announces 2nd Generation Zero-touch Edge Computing
Platform offering more flexibility and 2x performance to simplify, protect, and automate the Edge
In today's news,
Stratus Technologies
announced the 2nd generation of its
ztC Edge
platform, the
industry's first Edge Computing platform to combine built-in application virtualization and fault tolerance in an easy-to-install, ruggedized design for the industrial edge. 
The new ztC Edge offers up to 200% greater performance over the prior generation. The compute platform is ideal for running critical applications and building Smart Machines in Pharma, Chemicals, Oil & Gas, Food & Beverage, and other industries where data loss and downtime are unacceptable.
200% Greater Performance Over the Prior Generation 
The ztC Edge platform is a rugged, secure, highly automated Edge Computing platform that protects and delivers critical applications quickly, reliably, and efficiently in distributed, under-resourced locations, supporting increased operational efficiency and elimination of downtime.
Purpose-built for operational technology (OT) while meeting standard IT performance and security requirements, ztC Edge can quickly be installed at a single location or across multiple locations without the need for specialized IT skills.
Read Press Release
"Since its introduction, our ztC Edge platform has enabled our customers to dramatically simplify their edge infrastructure, gain efficiency, and drive innovation. Our second-generation platform adds features refined by customer and partner feedback and delivers sizable performance gains by incorporating the latest technologies available for speed and reliability."

Jason Anderson

Vice President of Business Line Management
►

NEWCOM is an Authorized Channel Partner
As an Authorized Channel Partner, NEWCOM can help your organization streamline next-generation data application and hybrid storage and optimize performance unique to your situation. We can facilitate the transformation of simplifying data storage and management while maximizing costs, for an always-on complete availability/storage solution.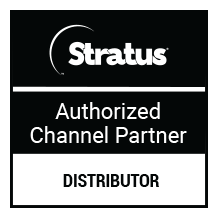 Key Benefits for Operations Teams
Simple
Easy to install, deploy and manage across applications and existing infrastructure as well as scale to new areas of operation.
Protected
Mitigates operational, financial, and reputational risk by ensuring "always on" availability and securing data from cyber threats or data loss.
Autonomous
Reliable, rugged, proven zero-touch technology to run in any environment without human monitoring, maintenance, repairs, or support.