Streamline Comm

unication

with Samsung Smart Signage 
HAVRION powered by Samsung provides schools with a new and effective way to communicate using Samsung Smart Signage 
This unified solution integrates the essential hardware and software to enable collaboration, communication, security, facilities management (fire safety), and video broadcasting needs. By fully leveraging the MagicINFO platform, the HAVRION software and API allows for the integration of an unlimited number of inputs/sensors allowing campus and/or district wide dynamic video connectivity to deliver alerts, notifications, customized messaging, and streaming.
Download Data Sheet
Keep students better engaged
CONNECT allows teachers to visually enhance the learning environment for their students, bringing life to the experience in a more nurturing, connected, and productive manner.
Keeps everyone better protected 
PROTECT keeps your campus informed at all times, giving you the ability to circulate rapid-response alerts and automated emergency updates in real time in a visually powerful fashion.
Keeps campuses better informed
STREAM gives school administrators the ability to centralize and improve school-wide and campus communications, visually promoting events and displaying important information to students and staff whenever and wherever they gather.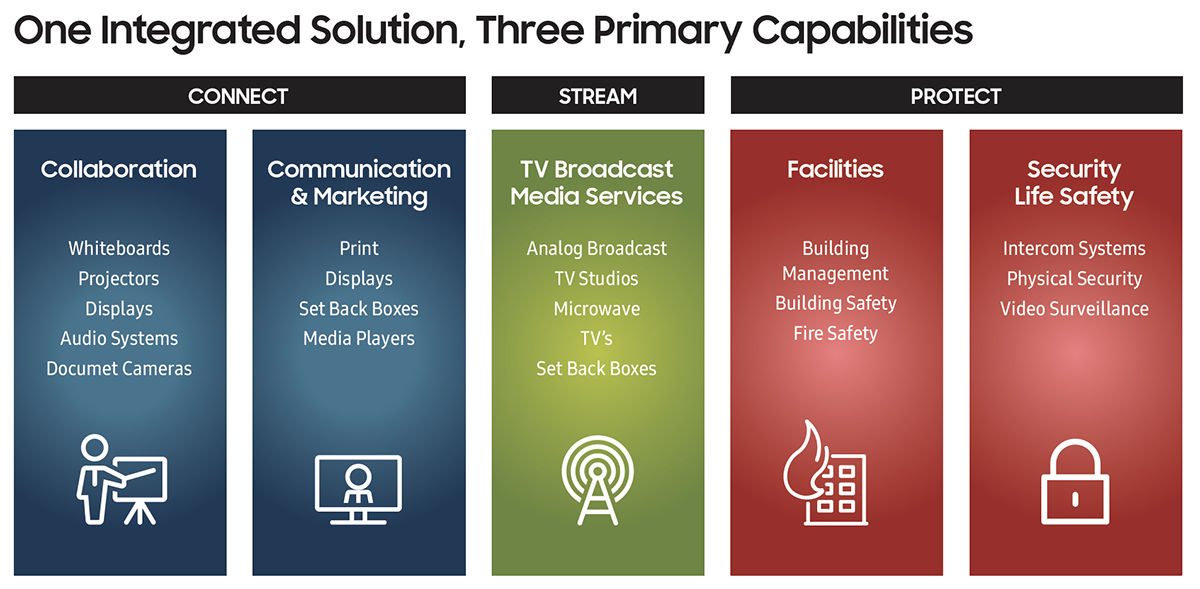 Why contact NEWCOM?
NEWCOM is a Gold EDU Strategic Partner of Samsung and is able to answer questions and provide solutions tailored to your technology needs. Based in the metropolitan Boston area with operations nationwide. Our expert project team of engineers offers turnkey solutions for commercial and public sector markets ranging from system analysis, design, installation, implementation, and system management, and raises the bar for the highest standards for customer support. Partnering with Samsung allows NEWCOM to provide solutions you can count on. 
NEWCOM, an IT trusted partner for business optimization providing customized, best-in-class solutions that are designed to maximize our client's technology investment in the face of the on-going technological change.