Inviting all PocketJet 7 fans to test drive the supercharged PocketJet 8
Legendary performance, redefined.
Accelerate printing in the field with the leader in portable full-page thermal printing. PocketJet 8 delivers high quality prints, increased speed, and expanded connectivity options. All that, plus an even broader range of paper and label capabilities. Everything you need and the confidence of lifetime technical support built into a compact printer. Smarter. Faster. And ready to roll.
USB-C, Wi-Fi®, MFi, and Bluetooth® wireless technology
iOS® SDK, Android™ SDK, AirPrint®, and Print Service Plug-in
Windows®, macOS®, and Linux (via USB) OS compatibility
Up to 300dpi high-resolution print technology
2-year limited warranty
Download Data Sheet
Wayne County Sheriff's Office Leverages Brother Thermal Paper for Top Quality in Mobile Printing
Mobile printers are the future for today's law enforcement agencies. This simple, smart technology empowers them to save time on traffic stops, improve paperwork accuracy, and boost revenue. That means they can focus on what they do best: serving and protecting our communities.
But when it comes to printing everything from eCitations and warrants to parking violations and legal paperwork, busy officers don't just need reliable mobile printers. They also need quality paper supplies that won't wear, fade, or prompt frustrating printer issues on the road.
Built for Real Work. The Simple. Smart Technology.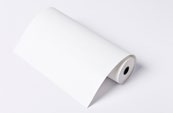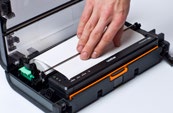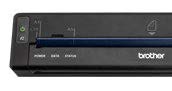 Supplies
NEWCOM provides thermal full-page paper and labels certified by Brother to give the best image quality for all your applications. Custom sizes and preprint options are also available.
Accessories
A wide range of optional accessories includes batteries, cases, carrying options, mounts, and power options.
Extended warranty
Extend the useful life of your printer by adding an extended service program at any point while your printer is still under warranty.
Fast comes standard: From powered on to printing out in seconds flat. Shift into high gear with fast print speeds and high-quality printing for all the details and small fonts. PocketJet 8 delivers uncompromising full-page quality with extra mileage to help you work, faster.
Technology untangled: Break away from messy cables with a single USB-C connection for power and communication, or print cord-free via Wi-Fi® or Bluetooth® wireless technology. Plus, multiple-OS compatibility, AirPrint®, and Print Service Plug-in options make it simple to print from existing systems.
Brother's innovation. Your solution: Create the full-page printer you need. With a lightweight yet powerful build, long-lasting battery, more media options1, off-the-shelf software and a wide variety of mounts and accessories, you can fully customize PocketJet 8 for your productivity. 
Legacy-backed peace of mind: With a 2-year limited warranty and responsive lifetime customer support2, the PocketJet has set the pace with millions of full-page mobile printers for almost 30 years.
Why contact NEWCOM?
NEWCOM is a valued, Reseller Partner of Brother Mobile Solutions and can easily answer questions and help to explore RuggedJet options for your Field Service. Our NEWCOM Engineers design and propose the right comprehensive printer systems based on your department's mobility and integration requirements.