Clear, concise, efficient communication 
Samsung's outdoor LED XPR-B display
Outdoor LED signage is a feature on campus commonly seen for announcing upcoming sports events or parent-teacher conferences.
The eye-catching aesthetics of digital signage are one factor, but for education decision makers, the most significant factor is emergency preparedness.
Samsung's outdoor LED XPR-B display offers a sleek, brilliant display that allows school districts to control multiple displays at once, making it the most efficient tool in case of an emergency.
Download Data Sheet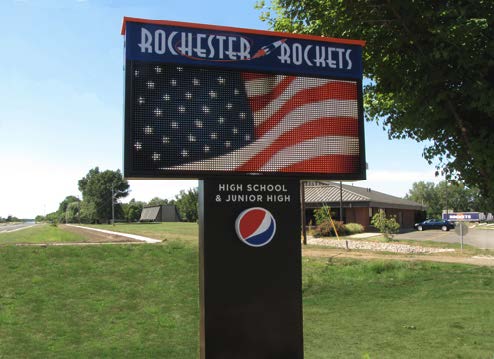 Campus communication at the center 
Up to date, coordinated campus messaging is important for any sort of emergency, including a fire, gas leak or lockdown. Digital signage allows schools to update messaging quickly based on time-sensitive information, helping ensure the well-being of everyone on campus.
Static signage proves inefficient when it comes to an emergency. With Samsung's cloud based content, it is easy and convenient to control the content from anywhere, keeping teachers, students and parents all fully informed, at a moment's notice.
Which schools are contenders? 
An LED display can be used at any level. Elementary and middle schools often display welcome messages and other student-parent events, while high school and higher education tend to highlight sports programs and ad space.
While the this is an added nice-to-have feature, any campus can benefit from LED displays in case of an emergency. Schools everywhere need to provide timely, relevant information to their community. Digital signage makes this communication easier — and more widely accessible — to everyone on and off campus.
Why contact NEWCOM?
NEWCOM is a trusted, strategic partner of Samsung and is able to answer questions and provide solutions tailored to your technology needs. Based in the metropolitan Boston area with operations nationwide. Our expert project team of engineers offers turnkey solutions for education, commercial, and public sector markets ranging from system analysis, design, installation, implementation, and system management, and raises the bar for the highest standards for customer support. Partnering with Samsung allows NEWCOM to provide solutions you can count on. 
NEWCOM, an IT trusted partner for business optimization providing customized, best-in-class solutions that are designed to maximize our client's technology investment in the face of the on-going technological change.
Built to withstand all weather
The Samsung XPR-B LED display features an advanced heat dissipation mechanism to prevent overheating. The cabinet and components inside are waterproof for added reliability in any weather conditions.
Multiple operational safeguards
All modules are connected to each other, so an issue with a single control board won't have an impact on the displayed content. The screens also protect against interruptions resulting from power supply failure. Our XPR-B displays are not affected by the power disruption as each unit is coupled with a backup.
Longer life and image quality
The design is more robust, leading to longer life and better image quality over time. Through the use of cutting edge design and high quality materials, Samsung creates a cost effective display that is built to last.
Cloud-based content
Samsung provides cloud-based content and display management with AI driven tools to help you create content that will not only draw your audience in but impress them with your brand.
Warranty and service support
With Samsung's outstanding warranty and NEWCOM's service support, you're covered.
Exceptional picture quality 
The XPR-B series delivers clear, brilliant images and prevents interruptions, no matter where they are installed. Eye-catching brightness combined with a high refresh rate means the content is clearly visible in any weather or lighting conditions.