CopTech Forum 2022                     
Explore ways to improve preparedness, response, and recovery with NEWCOM's IT solutions!
NEWCOM is attending the CopTech Forum 2022 at Sawgrass Marriott, Jacksonville Beach, FL on Nov 9-11th, 2022. NEWCOM offers a full range of technology products and services competitively priced and backed by a team of highly experienced and skilled engineers.
Partnering with leading manufacturers, the NEWCOM Team designs the most comprehensive systems based on our client's needs.  From mobility all the way through the data center, NEWCOM maximizes "off the shelf" solutions with customized applications giving the customer exactly what they need. 
We are certified and partnered with multiple technology groups that offer mobile data acquisition, fleet management, facial recognition, and business continuity in the data center. Jim Carman, Director of Sales, and Todd Hagen, Sales Executive of NEWCOM are ready to help provide the right technology solution to your law enforcement, security, emergency management, and technology challenges.
At NEWCOM we work with our clients to design and implement cutting edge solutions that are comprehensive and easy-to-deploy for law enforcement.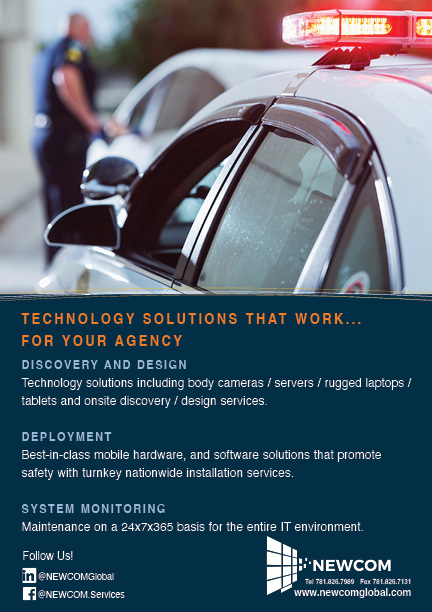 Trust the team at NEWCOM to match the right hardware and software to your mission critical applications. We have long standing relationships with the leading providers to ensure your agency can maximize your technology investment and get it done right, on time, and on budget. 
About CopTech Forum
"CopTech Forum is where police agencies come to select the technology they need. From mobile video to data storage to communications and much more, CopTech is where you'll see and compare technology solutions and providers to select what's right for you. We'll help you get the most for your tech budget dollars, by giving you a unique opportunity to get in-depth answers and compare solutions. You'll join your peers, IT leaders at other departments, for a candid conversation about what works and what doesn't. And you'll leave knowing you've compared the options and you're ready to select the right solution for your department." – (About CopTech Forum)
Meet the NEWCOM Team that believes in true partnerships!