Efficient eCitation Solutions 
Upgrade your Brother Mobile Solution PocketJet® now with  NEWCOM
eCitation systems can help improve officer safety, ensure accuracy, and boost revenue collection. Get the most out of your eCitation system from car to court. Are you getting the most out of your eCitation solution?
If you're like most law enforcement agencies, you've either implemented an eCitation solution or are considering one. You know the value of spending less time pushing paper and more time serving and protecting your community, not to mention the other benefits offered by eCitation systems that can enable your officers to work more safely, improve accuracy, and boost revenue collection.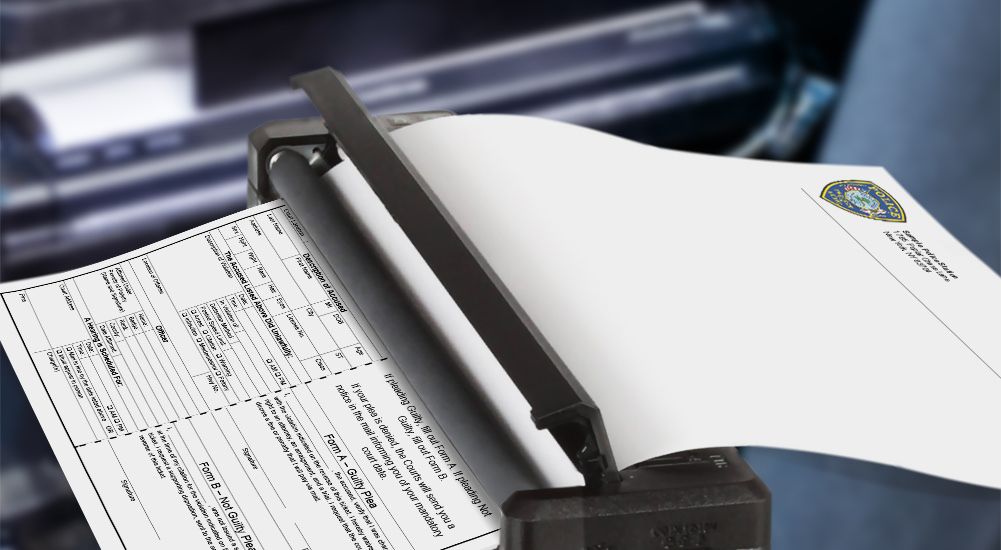 Most eCitation systems work like this: scan the driver's license barcode, auto-populate the citation form, print the citation for the motorist, and then electronically send the citation to the courthouse. They also include the same basic components: a mobile printer, software, barcode scanner, and a smart device such as a phone, laptop, tablet, or handheld computer.
There are key factors and criteria to keep in mind when selecting, implementing, and updating the legacy components of your eCitation system to optimize performance and maximize your ROI. (Reference: Q&A, Gary Reichle, Western Region Major Account Manager for Brother Mobile Solutions). 
A reminder that Brother Mobile Solutions has phased out its PocketJet 6 models. The PocketJet® 7 is an on-the-go full-page printer that gives you the freedom to print virtually anywhere, from almost any device, without special apps or drivers.
Upgrade to a PocketJet® 7 and expect powerful features:
Fast Print Speed
Reduce wait time by delivering documents faster – 8 pages per minute
More connectivity options
Bluetooth® connectivity, Wi-Fi, and Apple® Bluetooth MFi
Longer battery life
Print up to 600 pages on a single charge
Easier built-in charging
Oust the need for an external battery charger
PocketJet
The PocketJet® 7 mobile thermal printer is out-of-the-box ready to support full-page mobile printing from the most popular computers and mobile devices. The really big deal is the freedom it gives you and your mobile workforce—the freedom to print virtually anywhere, from almost any device, without special apps or drivers. 
Why contact NEWCOM?
NEWCOM is a valued, Reseller Partner of Brother Mobile Solutions and can easily answer questions and help to explore RuggedJet and PocketJet options for your public safety needs. Our NEWCOM Engineers design and propose the right comprehensive printer systems based on your department's mobility and integration requirements.
Authorized Reseller Partner

References:
Brother Mobile Solutions. (2021, June 16). Retrieved from: https://brothermobilesolutions.com/products/mobile-printers/pocketjet/
Reichle, G. (2019, April 10). Brother Mobile Solutions: Q&A: Closing the Loop from Car to Court. Retrieved from: https://brothermobilesolutions.com/2019/04/10/qa-closing-the-loop-from-car-to-court/?utm_campaign=BMS%20-%20EM%20-%20eCitation%20-%20Q4%20-%20Email%201&utm_medium=Email&utm_source=elq&vyemail=dawnl%40newcomglobal.com