AirLink® RX55 Cellular Router Optimized for the Rapidly Expanding Industrial IoT
New ultra-low powered cellular router solution powered by AirLink OS enables next-generation networking capabilities for industry 4.0 applications
Sierra Wireless (NASDAQ: SWIR) (TSX: SW), a world leading IoT solutions provider, announced the AirLink® RX55 LTE cellular router solution to bring advanced networking capabilities to the Industrial IoT (IIoT) and deliver intelligence securely at the edge for mission-critical applications on both public and private networks.

Optimized for industrial IoT and Industry 4.0 Application
The new AirLink® RX55 cellular router solution provides ultra-low power consumption, which combined with its wide operating voltage, makes it ideal for solar or battery powered remote monitoring installations. Its' compact, rugged design is built to withstand harsh conditions and with edge intelligence capabilities, the router's future-proof design enables applications including grid modernization, smart city, automation, and remote machine and sensor monitoring.
The AirLink RX55's design along with its' ultra-low power, ethernet, and dual-serial port makes it ideal for use in both fixed and mobile industrial applications including power and water utilities, oil fields, pipelines, mines, agriculture, manufacturing, waste management, private networking, and SCADA applications.
Sierra Wireless AirLink® RX55 Cellular Router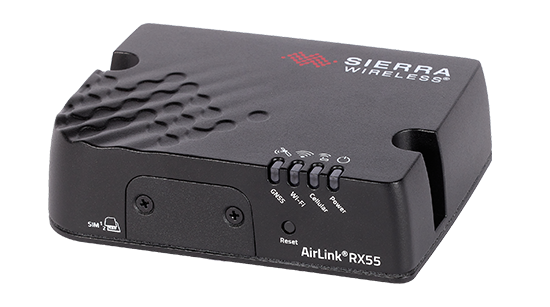 COMPACT SIZE
Compact size makes installation easier
OUT-OF-THE BOX CONNECTIVITY
Out-of-the box connectivity delivers same day operations
CONNECT TO A WIDE VARIETY
Connect to a wide variety of devices from video to low-power IoT
LEVERAGE THE WORLD OF IOT
Leverage the world of IoT to drive new business opportunities
NEWCOM, a Certified Partner for all things Sierra Wireless, is based in the metropolitan Boston area with operations nationwide. Our expert project team of engineers offers turnkey solutions for commercial and public sector markets ranging from system analysis, design, installation, implementation, and system management, and raises the bar for the highest standards for customer support.